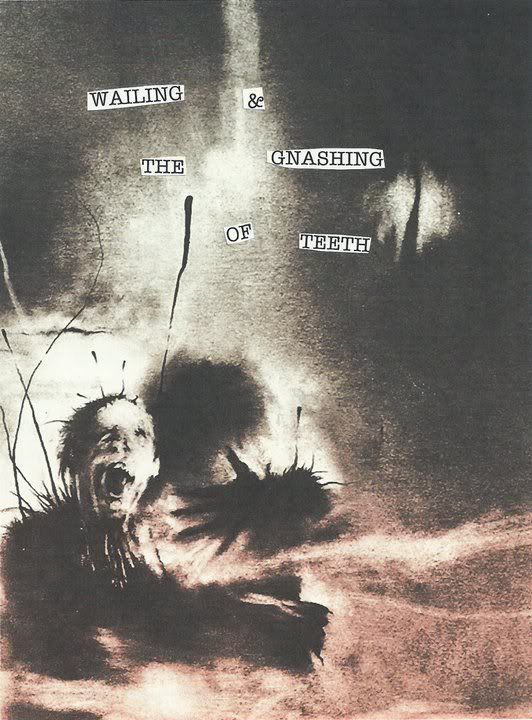 http://www.mediafire.com/?lq1zwcb278o7jdx
This was our first official release. The tape release show was good, but we missed the first band (Dust Ward) because we were hastily assembling them in the van. We ended up only having 3 or 4 to sell. At our own tape release show.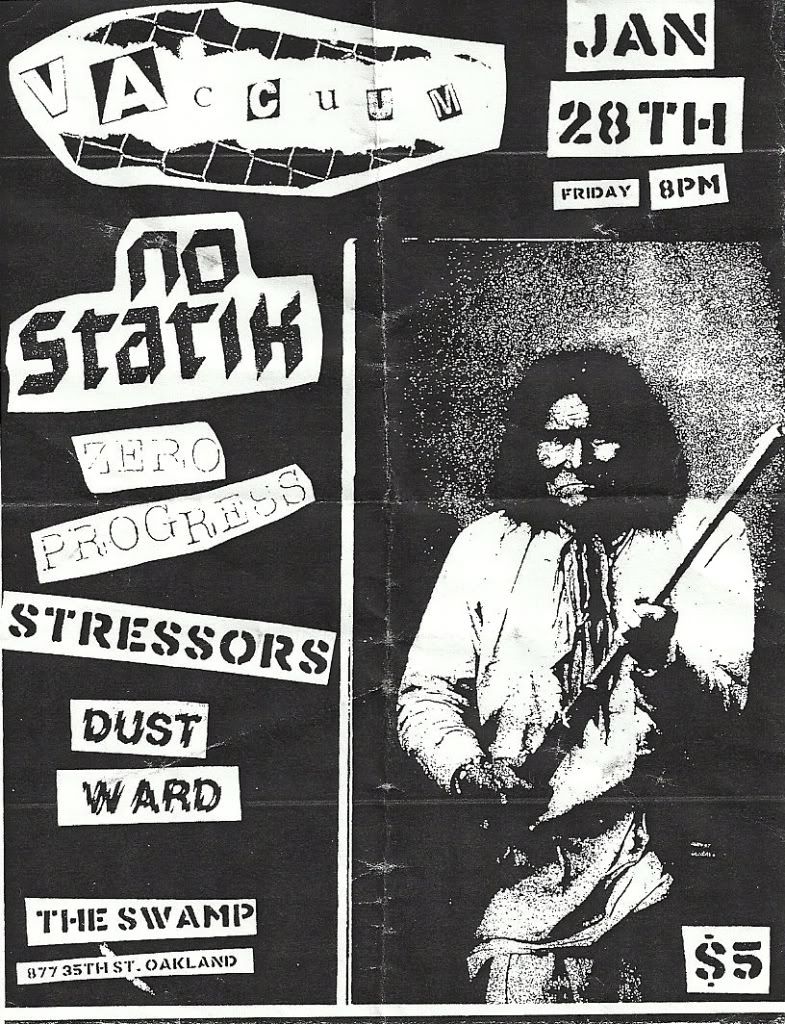 Anyways, the first edition (the first ten or so) is the same as the second except for the back. The first edition's back cover featured a black and white picture of people sitting around a table trying to conjure spirits. Spirit photography. However, because of the dimensions of the image, it fit awkwardly no matter how I cut it. The second edition features a little girl trick or treating. I never scanned the back cover so here's the tapes, as Ed arranged them, before taking the last of them on Zero Progress' full US tour last summer.
This is probably my favorite Stressors release recording quality wise. Sometimes the cymbals get lost in the noisiness of it all, and the bass is a little low, but overall all it comes together pretty nicely. Here's us playing at The Hazmat in Oakland, which was sadly later closed down for health code violations. If you ever saw that place you would see why.
I made a collage for the release in my dorm room late one night, using mostly images from 80's movies. There's also a BART (Bay Area Rapid Transit) card, Pat Robertson, and some old unsolved Zodiac Killer codes. I wanted to include Ally Sheedy, but there wasn't much room left, so I scattered parts of her face throughout the page. We're in the top left corner of course, our heads pasted on characters from The Goonies (my favorite movie).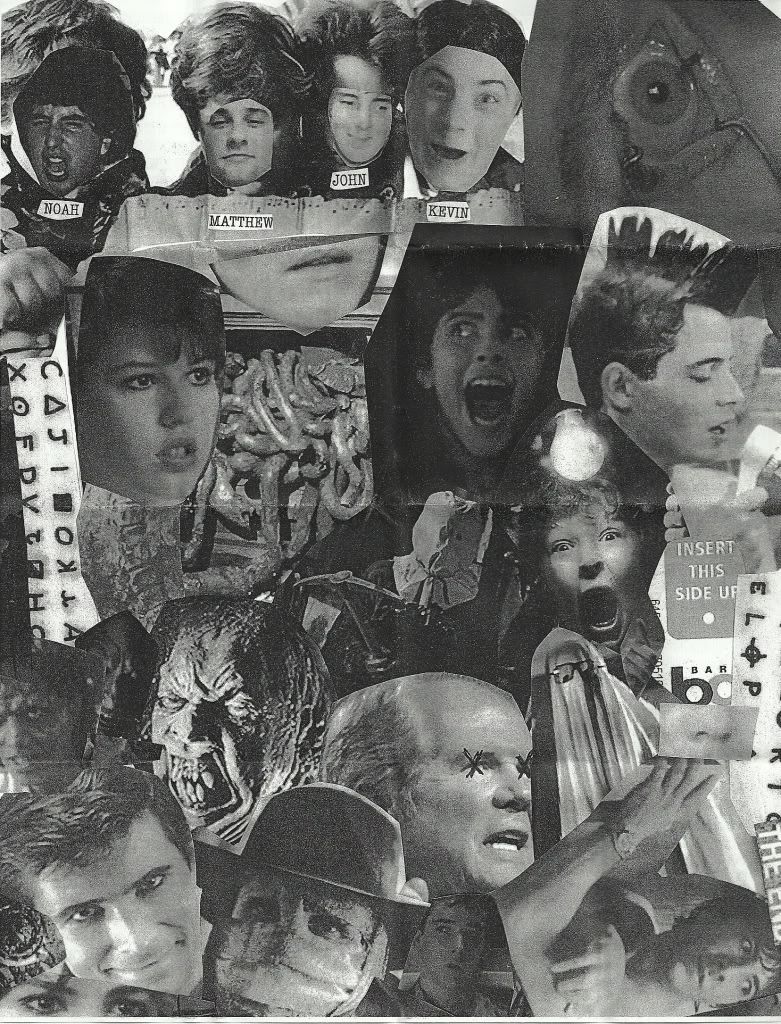 I wrote most of the lyrics besides Pariah, Man On My Lawn, and the last verse of Wailing & The Gnashing Of Teeth, all of which were written by Noah. I think he wrecked the second verse of "Internal Critic" by changing the words when he lost the lyric sheet. That particular song is about the figurative voice in your head that tells you when you screw things up. By changing the lyrics to include "bind torture kill" it associates the song, at least to me, with the BTK Killer, some old loser who strangled women in the 1970's. An interesting subject, but irrelevant to the song's main topic. Enough complaints though, I'll go over some of the other songs.
Death Valley basically came from talking to Ed and Matt about "The Scene" here. It's about how the Bay Area used to have bigger bands that everyone was into and went to see, but they've mostly broken up and moved on to other stuff. Now it seems more fragmented. Midnight Convulsions is about night terrors and sleep paralysis. Man On My lawn is horror movie stuff. Bile is about the kind of people I hate, who I feel are making the world a worse place to live. False Identity is about people who try to define themselves through merchandise and what they wear, and the companies who try and do the same. The chorus was "sung" by members of Stressors, Assumptions, Zero Progress and Easy Living. Wailing is about hell, and is named after a bible verse. The beginning and end features one of Noah's friends speaking in italian. There were 50 of these made, and a few are still available for purchase at
Vinyl Junkie Distro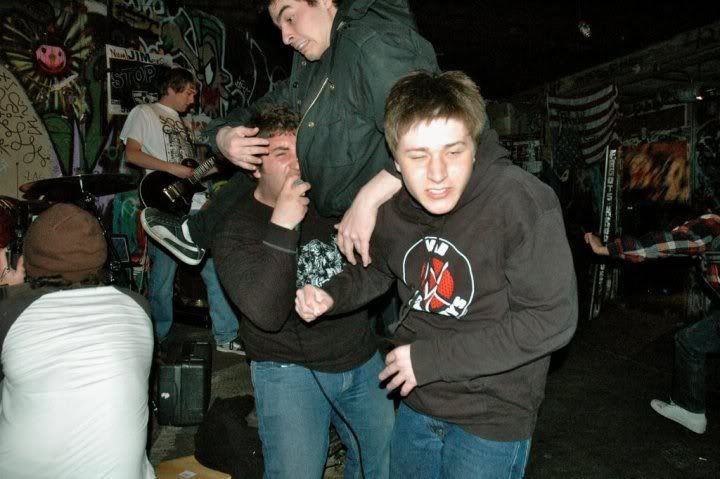 Last summer we played with Vile Gash on their tour. I think that show got people to notice us on a larger scale. I made the flyer using an image from The Dead Zone movie. Miriam from Maximumrocknroll saw us and reviewed our tape.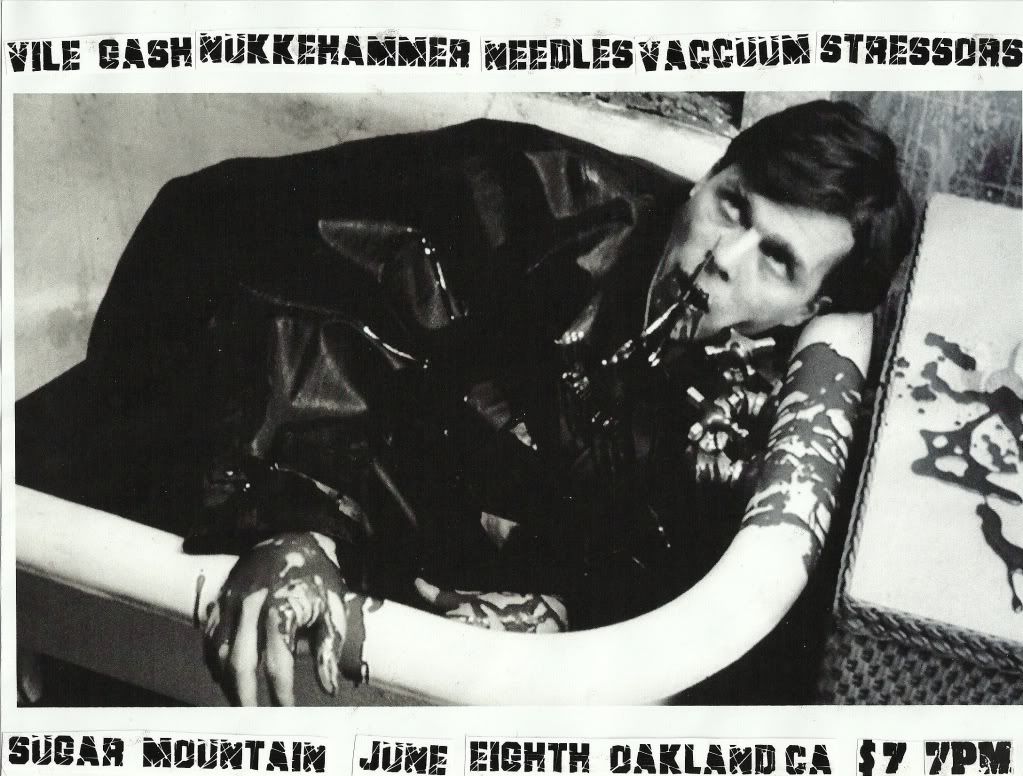 We also started showing up in MRR's top ten list thanks to Robert from No Statik, who's awesome band we later played with on Noah's 21st birthday show.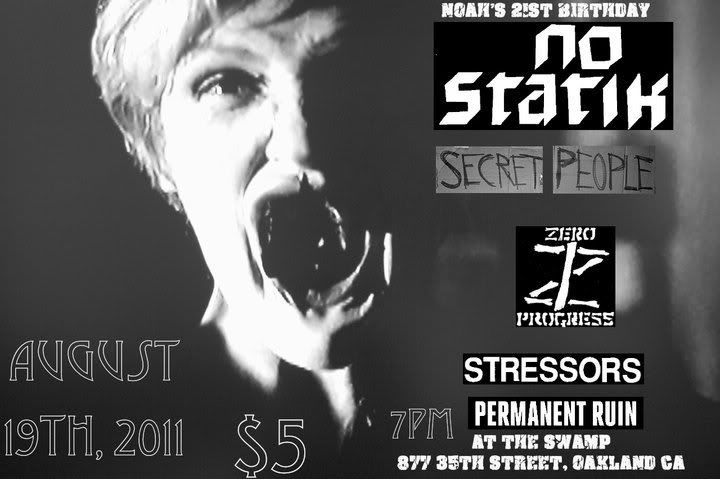 Oh, I almost forgot. The french phrase above the picture of demons in the center means "we worship nothing." The "thanks" was cut from San Francisco State school newspapers. The demon drawing was done by Noah's friend Elaine. I think this is my longest post yet. Thanks for reading and I hope you like the music.